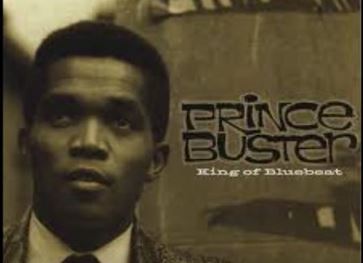 Prince Buster - Madness par LianeCarlton
Prince buster: Madness, genius and business
For many people about my age, Prince Buster was little more than a name connected to ska. But the death of Cecil Bustamente Campbell on September 8, 2016 marks the passing of one of reggae's most important figures. He created literally hundreds of tracks as both producer, writer and performer. These include worldwide hits such as "One Step Beyond", "Al Capone" and "Oh Carolina" (now best known for the brilliant cover by Shaggy). The hit "Madness" was later used as the British ska band's signature tune.
Buster first started working in the music business in sound systems, rapidly setting up his own, called Voice of the People. Spotting an opportunity, he started producing singles. He proved to be an inspired producer and writer, and created numerous hits from the very start of his career in the early sixties.
After totally dominating the ska scene, Prince Buster continued to push out hits in the rocksteady reggae style. His "Judge Dread" series of parody hits would be used as a stage name by the British artist Alexander Hughes.
The British ska revival of the seventies dipped generously into Buster's legacy. Madness' first hit (on the 2-Tone label) was called, significantly, "The Prince".
Campbell died in Miami, Florida after suffering a number of strokes.