The ultimate David Bowie tribute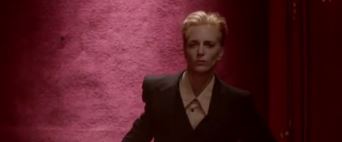 David Bowie mash-up set to the silver screen
UPDATE Oct 29 2020: I just watched the trailer for the upcoming David Bowie biopic.
Um. They really should have asked Soulwax and director Wim Reygaert to handle it. 
Soulwax strike again. The Belgian DJ duo Soulwax, that also work as the DJ duo 2ManyDJs, have created what is probably the ultimate David Bowie tribute.
In "Dave", the Belgian top model Hannelore Knuts (photo) plays a Thin White Duke-era Bowie. She is brought from room to room in a hotel, each of which contains references to classic Bowie albums. It is cleverly directed by Wim Reygaert. Remarkably, it dates from 2 years ago. Where has it been hiding?
This is one for trainspotters, as elements from Bowie's life and career abound. I think the man himself would have appreciated it, as far from being just a fan-pic, it builds into something quite spectacular at the end.
Soulwax's clever cut'n'paste of Bowie tracks is as tasteful as you can expect from a duo that frankly ooze respect and style.
Stardust Bowie biopic vs Moonage Daydream
In February 2019, it was announced that Johnny Flynn will play David Bowie in the biopic "Stardust". Even more than a portrayal of Freddie Mercury, this will be a challenge for any actor. Flynn is already a singer and actor. But people will be watching this portrayal with even more attention. I wonder did they ever consider using Knuts? 😉
UPDATE 2022: "Stardust" came and went without making any impact. But the big news is now "Moonage Daydream", the documentary that promises to be "immersive" (whatever that means – I guess we'll have to wait and find out). Release date September 2022.
It looks great. What do you think?