Portraits of singers in their own words
We associate singers very much with the words of their songs (even if they did not necessarily do the lyrics themselves). So it's hardly surprising that someone has decided to create portraits of singers in their own words (or the lyrics of their songs to be more precise).
Sean Williams' series of sharp portraits include Justin Timberlake (photo), Jay-Z, Rihanna, Bruno Mars and Heisenberg (Breaking Bad).
Cute, no?
You can find a whole bunch more (plus T-shirts and mug with images) at Seanings Design.
Rihanna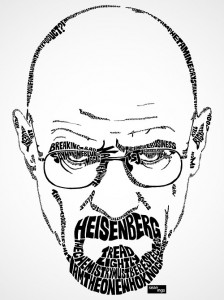 William White (Breaking Bad)