Singing with Lio at the Ancienne Belgique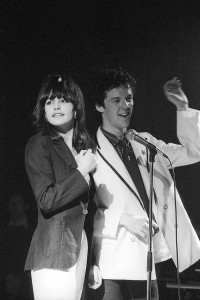 The AB/Ancienne Belgique venue has just celebrated its 35th anniversary, and released a book written by journalist Johan Ral. It's a beautiful account, starting with the former variety hall and running through the decades with sensational photos and anecdotes. Just about every major performer from the 70s onwards has appeared there at some stage, and the book includes accounts from Wilco, Jools Holland and others.
Ral contacted me as he noticed something odd in the hall's 1979 agenda: a band called the Mad Virgins with singer and actress Lio. He knew the Mad Virgins – a former punk band that was trying to go pop (with yours truly on vocals). But Lio? Was this true? What was the bubble-gum singer of "Banana Split" doing in a line-up that included Antwerp's über punks The Kids?
At the time, Belgium's then young pop star Lio was the girlfriend of our friend Claude Milan (who had released the Mad Virgin's first single on the Romantik label before I was involved) and was already having a hit with "Banana Split". By this time, we felt punk had pretty much run its course in terms of trying to shock the audience. So we thought it would be much more fun to spice things up and catch peoples' attention in another way.
Rock version of Lio's Banana Split
So we borrowed some white tuxedos and our guest for the night was – drumroll – Lio. She appeared in snappy black and white clothes with a cute ponytail and we played a rock version of "Banana Split". It was like something out of a corny college movie. The fans of punk band The Kids down the front immediately started spitting madly at her and shouting "A poil" (get yer clothes off).
Lio, being a good sport, thought the whole thing was hilarious (which it was – but I'm not sure most singers would appreciate that kind of welcome these days). It was actually the first time she had ever appeared on a stage with musicians. It turns out that Lio has balls. She probably needed them to later become such a well-known singer and actress in the French-speaking world.
We later played the opening acts for Madness and Adam & The Ants at the AB. The Madness show was great. The audience was so wired up for some fun that we could have de-tuned the guitars and they still would have been hopping around the hall.
For more about the Ancienne Belgique book see Ancienne Belgique. Een muzikale geschiedenis (in Dutch)