Kid Creole/August Darnell announces concert dates in Germany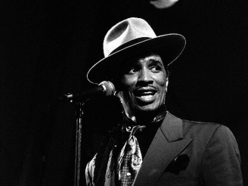 August Darnell, better known as Kid Creole, has announced a number of appearances in Germany. He will be appearing as part of the Night of the Proms events with other performers. Darnell is a songwriter's songwriter, capable of turning out floor-fillers and touching ballads. Stylistically, he has always been influenced by the swing period of the 40s. His shows in the eighties featured up to 20 musicians on stage, with Darnell appearing in fancy zoot suits accompanied by the Coconuts. The whole vibe was reminiscent of Cab Calloway, although Darnell proved deft at adapting his tunes to the sound of the moment. During that period, he raked up a string of worldwide hits such as "Annie (I'm not Your Daddy"), "Stool Pigeon", "I'm a Wonderful Thing" and "No Fish Today" but later faded from the public eye.
He still tours and writes. For details, check Kid Creole, although you'll find more music on YouTube and DailyMotion.
Click through for the German concert dates:
<
Kid Creole in Germany: 12 cities
Friday 26 November 2010 | Köln | Lanxessarena
Saturday 27 November 2010 | Köln | Lanxessarena
Sunday 28 November 2010 | Oberhausen | Arena
Tuesday 30 November 2010 | Frankfurt | Festhalle
Wednesday 1 December 2010 | Frankfurt | Festhalle
Thursday 02 December 2010 | Erfurt | Messehalle
Friday 03 December 2010 | Berlin | 02 World
Saturday 04 December 2010 | Hamburg | 02 World
Sunday 05 December 2010 | Hamburg | 02 World
Tuesday 07 December 2010 | Mannheim | SAP Arena
Wednesday 08 December 2010 | Stuttgart | Schleyerhalle
Thursday 09 December 2010 | München | Olympiahalle
Friday 10 December 2010 | München | Olympiahalle
Saturday 11 December 2010 | München | Olympiahalle
Sunday 12 December 2010 | München | Olympiahalle
Tuesday 14 December 2010 | Bremen | Bremen Arena
Wednesday 15 December 2010 | Hannover | TUI Arena
Friday 17 December 2010 | Dortmund Westfalenhalle
Saturday 18 December 2010 | Dortmund Westfalenhalle