Vera Lynn re-enters British charts at age 92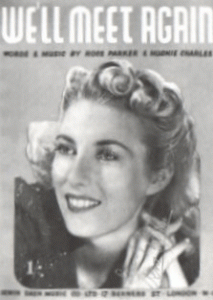 I just got back from Normandy, which has been celebrating the 70th anniversary of the D-Day landing this year. So it was a strange coincidence to discover that Dame Vera Lynn is back in the UK charts with a compilation based around "We'll Meet Again", the song written for the movie of the same name in 1939. Lynn was known as the sweetheart of the armed forces, appearing regularly in uniform to sing for them. The song is one of the iconic tracks of the conflict, evoking a feeling of destiny and hope in the face of overwhelming odds.
We'll meet again
Don't know where
Don't know when
But I know we'll meet again some sunny day
It was written by composer Ross Parker and lyricist Hughie Charles (who would also pen "There'll Always be an England") and has had a long career. It is known mostly for the chorus, and to be honest, the verses don't add much to the song. But it's interesting to see how four lines can reach people so powerfully even after 70 years. In addition to regular re-releases, "We'll Meet Again" has been used in films such as "Dr Strangelove" as well as countless World War 2 documentaries. It has also been covered by people as diverse as Barry Manilow, The Byrds and Pete Doherty. By entering the charts at age 92, Dame Vera Lynn has set a new record that will be hard to beat.