Tip: The return of Grace Jones

Grace Jones - Corporate Cannibal by PIAS Records
Eek! She's back. This certainly beats the return of Britney. Grace Jones, the inimitable singer of "My Jamaican Guy" and "La vie en rose", is back with an album called "Hurricane". Although some of the tracks I heard are more in line with her minimal funk, this track stands out for its dark, brooding tone that is admirably served by the video – and lyrics that have proven to be very visionary with lines like "Corporate cannibal, digital criminal". Jones will be touring the UK in January 2009.
"Corporate Cannibal" was going to be the title of the album. The stark video is by Nick Hooker, who has worked on the trippy visuals of U2's "Love & Peace or Else" for the Vertigo tour. Lyrically, Jones is on comfortable ground (for her).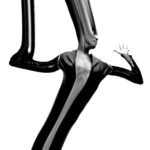 Pleased to meet you
Pleased to have you on my plate
Your meat is sweet to me…

…I'm a man-eating machine
Is it surprising that the style icon has taken an anti-corporate almost political stance? Perhaps not. The new album is released today, November 3.
Check Corporate Cannibal on Amazon.