One of music's most remarkable writers is no more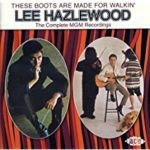 One of the truly great songwriters and all-round characters has just died. Chances are that lee Hazelwood will be best remember for "These Boots are Made for Walking" (a great song in itself). But there was more – far more – to this incredible writer, producer and performer.
After serving as a disk jockey during the Korean War, Lee Hazelwood was turning out hits in the late fifties already, working with Duane Eddy, Sanford Clark and others. He partnered with Lester Still, whose assistant Phil Spector was very much impressed by the use of reverb on "Movin' and Groovin'". Other major acts he had hits with include Dean Martin and a film with Frank Sinatra. The relationship with Nancy Sinatra was the longest, with hits "These Boots.." and "Did You Ever?" pulled from nine successful albums. Courtney Love, Primal Scream and Nick Cave are among the performers that covered his songs.
Hazelwood also released a large number of solo albums some only available in Sweden, where he had been living for some time.
Hazlewood: poet, producer, total maverick
I was going to write a personal appreciation. But writer John Bush says it all:
"Country and pop iconoclast Lee Hazlewood was one of the music world's most irascible geniuses during a long, fruitful career. An Oklahoma Dust Bowl refugee who grew up to become a dedicated Europhile; a production heavyweight who authored success stories for Duane Eddy and Nancy Sinatra but also a recording eccentric who refused to acknowledge mainstream tastes; a songwriter capable of crippling fatalism ("My Autumn's Done Come") and playful country corn ("Dolly Parton's Guitar"), and songs that use elements of both ("Dark in My Heart"); it's all part of the highly contradictory legend of Hazlewood."