Sting to release lyrics as book
Sting – The Lyrics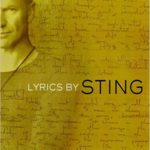 I just read that Sting will release the lyrics to Police as a book later in the year. Sounds like a good idea. And perhaps it will put to rest a lot of the speculation about his lyrics. My favourite misunderstanding is "Every Breath You Take", a song that sounds like it was written by a stalker (…"oh can't you see, you belong to me…" – creepy!). So I've never understood how it became so popular at weddings. It's probably telling us something about today's relationships that I don't want to know!
More recently, a couple had to be separated by police after a fight than involve one of Sting's songs, the 1985 tune, "If You Love Somebody Set Them Free".
During the lovers' quarrel, Moore admitted to grabbing Haynes by the head but claimed he didn't bite him, according to the report. Moore said he was "not being aggressive just wanted to show him that he loved him," according to cops.
Yikes! The full story is on the New York Post. Nonetheless, there's never enough debate about lyrics. So I'll be checking the book out. Got any favourite Sting/Police lyrics you want to mention?