Jay Z vs. Cristal: Who said what?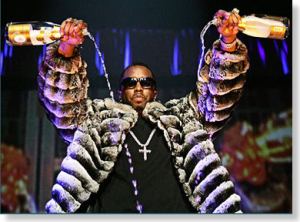 It could only happen in US Hip-Hop: Jay Z has vowed to never sing about Cristal champagne again. Wow! The man has his principles and is determined to stand up for what is right. The reason for his righteous indignation? In totally unconfirmed reports, the head of the champagne manufacturer was claimed to have stated that the attention of the Hip-Hop community was "unwelcome" – which sounds pretty unlikely. Jay Z declared this to be "racist", as if the only people to listen to Hip-Hop were black. He immediately withdrew the drink from his club and will remove the word Cristal from his upcoming show.
Cristal's "Utmost regard"
The trouble is, I can't find any credible reference to this statement on The Economist's website, nor indeed anywhere else on the web (see update below). The only references come from the World Entertainment News network. Meanwhile, Cristal head Frederic Rouzaud has issued a statement stating that, "I did not use this phrase and I did not imply such sentiment. The House of Louis Roederer could not have been in existence since 1776 without having the utmost regard for, and interest in, all forms of art and culture". There might be a degree of damage control involved there, but his original statement is far from being what it was initially reported as being.
Does this sound like rumour manipulation on the part of the Jay Z camp? Or is he totally misinformed? It's no secret that many US Hip-Hop performers have traded references to brands in their tracks and videos for cash and gifts. In that context, how should we view this issue? Click through for the updates
UPDATE: I have since been sent a link to the actual article in The Economist. In it, Rouzaud is asked if an association between Cristal and the bling lifestyle could actually hurt the brand. He replied: "That's a good question, but what can we do? We can't forbid people from buying it. I'm sure Dom Pérignon or Krug would be delighted to have their business." The only mention to "unwelcome attention" is in the sub-headline written by the journalist, Gideon Rachman. Read the full article here.
So it looks like the racist claim is a complete non-starter. But one question remains: what is it with Bling rappers that pushes them to plug so many luxury brands?