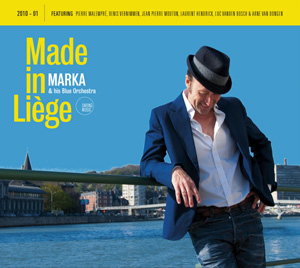 Here's an oddity. I wrote a song with the Belgian rocker Marka many moons ago, which he just recently dusted off and turned into a hybrid bossa nova. He also added French lyrics to add a little "je ne sais quoi", keeping the title "Open Your Eyes".
Train-spotters might find it in a previous version called "Miss Understanding", from when he used to be frontman with Les Cactus – although frankly I doubt it. For one thing, this dates back to the 90s and was never released anyway.
"Open Your eyes" was supposed to be on his new album "Aktion Man", but it turned up on the "Made in Liège" album instead (photo).
You can listen to "Open Your Eyes" on Deezer here.