Every so often you come across a singer that has it. Yves Erauw rang me out of the blue one day, looking for someone to help with lyrics on a track he had written. I'd never heard of him, but asked that he send some material. What he sent included his clip from The Voice Belgique singing "I Want to Know What Love is". I couldn't help noticing what smooth control he had over his voice, and the ease with which he sang.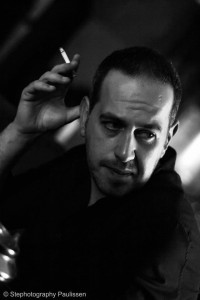 So we met up, and he told me his story. I have a rock background, and am used to hearing about people discovering their talent along the way. Yves' path is completely different as he started by singing standards as a teenager and working his way through piano bars and lounges for years. He even found himself on stage at the Hotel Paris in Las Vegas almost by accident, singing jazz standards for 45 minutes when the scheduled singer fell ill. He can also tell you tales about Billy Paul and David Garfield. Great, I thought, another showbiz junkie. I wondered could he also tap dance? We cut a track, "The Other Woman", and went our ways.
The Yves Erauw sound: Big songs, big arrangements
But I found myself talking about Yves to other people and eventually came to the conclusion that we shouldn't let such a good voice go to waste. But for a voice as big as Yves', you need big songs and arrangements, so I eventually persuaded Herman Martin to get on-board and re-arrange a couple of songs we had never really finished until then. He got into the swing of it, and from May 2013 started completely re-arranging songs such as "U Better be Good" giving them (what I find) an irresistible simili-60s sound.
Spontaneously, we fell into the mode of creating "classic" songs. We needle-dropped a huge range of influences from the Bee Gees to (one of my favourites) Umberto Tozzi. We also listened to lots and lots of great soul and things by film composer John Barry. How much of all that will be left in the final versions is hard to say, as songwriting is very organic. But it's been a great ride so far.
You've come this far, why not check what's up on Yves Erauw's Facebook page.
UPDATE: Since this was written (in 2013!) Michael Leahy, Yves Erauw and the Waku family wrote "Where Did Our Love Go".
Michael Leahy, the Accidental Lyricist