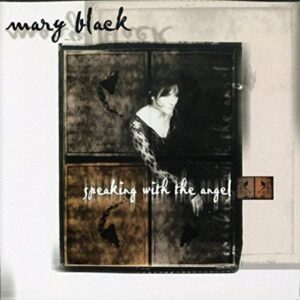 Mary Black: A Woman's Voice
This interview dates from the release of "Speaking With the Angel" (2000).
Mary Black has grown to be one of popular music's favourite female singers. From the folksy days with Ireland's De Danaan, she was noted for powerful singing. This mellowed out somewhat when she began to sing less trad material. Now she is back with "Speaking With the Angel", hailed as almost a return to roots. Michael Leahy spoke to her
Over the years, Mary Black has come to define what many people see as the essence of Irish woman singers: profound, slightly ethereal and beyond the reaches of trends. Ghost-like promo shots only add to the impression. So it comes as a pleasant surprise to discover a warm, very real and witty person. Black was in town to unveil "Speaking With the Angel" which – for those who are counting – is her 9th solo release. It marks a return to slightly more traditional sound for Black, whose career started with the brilliant trad band De Danaan (another member of which was Dolores Keane). "People had often asked me why I don't do a folky album again," she says. "For a long time, I was trying different things and put that behind me." A prolonged spell in Los Angeles, followed by time in Ireland, brought it all back. "I hung out with a lot of folk musicians again, doing sessions and singing in pubs and things. So I really wanted to get back to that."
"Speaking With the Angel", however, is not a traditional album – Black is now far too interested in exploring the depths of the soul through the eyes of the songwriters that write for her. "You wouldn't believe the number of tapes I receive," she says. What does she look for in a song? "I want to be touched by the words," she says. "But then again, there are some tunes that have caught my attention directly and it's only afterwards that I understand what's being said." "Speaking" has a more natural sound than her recent work, with touches of pipes and fiddle. Is it an accident that on the most striking tunes – "Cut by Wire" and "I Live not Where I Love" – her singing is on a par with her best traditional work? Perhaps not. But rather than being bound by Irish music as such, Black belongs to the wider family of distinctive female singers such as Joan Baez and Emmylou Harris. "I've never really felt I was at a disadvantage being a woman in a man's world," she says of music. "In fact, it has been more of an advantage." She has appeared with both women, but the name-dropping does not stretch as far as joining the ranks of those who dare to share a stage with Pavarotti – perhaps fortunately. "Why not? I'd give him a run for his money," she says – and you have to believe her.